Your shopping cart is empty!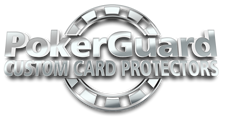 In Stock
This dealer button is a perfect addition to any PokerGuard® card protector, featuring all suits carefully engraved and the word dealer boldly displayed. The silver piece itself is 39MM (approximately 1.5 inches) in diameter, the same size as our poker protectors & comes encased in a larger acrylic case which makes it larger at 50MM (approximately 2 inches). It also includes a smart black border to ensure it's not mistaken for a card protector.
As all our PokerGuard® products, this dealer button is made from .999 pure silver, and not silver plated - professionally crafted from about 31 grams of silver, equal to the weight of approximately 3-4 clay poker chips and is approximately 1.5 inches in diameter.
You can bet that this dealer button will make a handsome addition to your poker collection.
The dealer's button includes a jeweler's pouch.
Write a review
Your Name:
Your Review:
Note: HTML is not translated!
Rating:
Bad
Good
Enter the code in the box below:
Featured Products
This poker card protector features the ace of spades and the king of spades, commonly referred to as Big Slick, one of t

$42.00

This Custom Engraved PokerGuard™ card protector features two blank areas for engraving and offers a choice of 3 protec

$45.00