Your shopping cart is empty!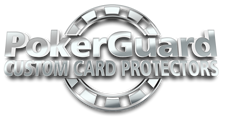 Custom: Rectangle Graphic Card Protector
In Stock
This Custom Graphic Rectangle poker card protector features a blank area on the front to engrave YOUR LOGO OR GRAPHIC on the front and includes a small area on the reverse for optional customization.
As all our poker protectors, this one is made from .999 pure silver, and not silver plated - our protectors are professionally crafted from about 31 grams of silver, equal to the weight of approximately 3-4 clay poker chips and is approximately 2 inches tall and 1 1/8 inches wide.
Submitting your image: After you place your order, you will receive an email providing instructions on how to submit your image for engraving.

[Artwork Guidelines]
Photo Conversion:If you are unable to supply your image in black and white, we offer an optional photo conversion service.[More Info]
By purchasing a custom graphic protector, you agree that you have read our [Trademark Infringement] policy.
All protectors are encased in an acrylic holder and include a jeweler's pouch
Font Selection Options:

Note: Edwardian Script is not suitable for all upper case characters
Write a review
Your Name:
Your Review:
Note: HTML is not translated!
Rating:
Bad
Good
Enter the code in the box below:
Featured Products
This poker card protector features the ace of spades and the king of spades, commonly referred to as Big Slick, one of t

$42.00

This Custom Engraved PokerGuard™ card protector features two blank areas for engraving and offers a choice of 3 protec

$45.00