Your shopping cart is empty!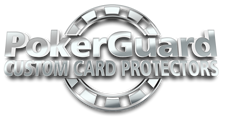 About Us
About Us
Our mission is to provide the finest poker card protectors for the true poker enthusiast.
Whether your favorite game is Omaha, Limit, or No Limit, you will not find a higher quality card protector anywhere that makes a statement that you are a true enthusiast.
PokerGuard.com is committed to providing our valued customers with the best selection of fashionable designer card protectors. Combining these value filled offerings with superb quality of service will always remain our simple approach to presenting you with a pleasant online shopping experience.