Your shopping cart is empty!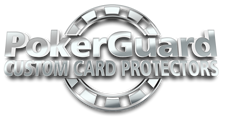 Shipping Information
Delivery Information
Shipping Date
Most orders are shipping within 3 business days of receiving your order. Custom engraved orders and large orders may take longer. Contact us if you have any questions. NOTE: We rely on our delivery partners for shipping. Delivery times are estimates only, and not guarantees, as they are subject to unforseen delays of the shipping company and beyond the control of PokerGuard.com.
Domestic Shipping Charges
We charge a flat rate for shipping and handling via USPS as the table below indicates. Optional expedited shipping options are available during your checkout process. Sales tax is charged and collected for all orders shipped within the state of Arizona.
Order total from $00.00 - $65.00..................shipping $3.95
Order total from $50.01 - $100.00 ...............shipping $5.95
Order total from$100.01 - $200.00 ..............shipping $6.95
Order total from $200.01 - $1000.00 ...........shipping $9.95
International Shipping Charges & Countries
We offer international shipping for Canada and Europe and charge a flat rate for shipping and handling via USPS Global. Australia, Austria, Canada, Denmark, France, Germany, Greece, Greenland, Ireland, Italy, Mexico, New Zealand, Norway, Spain, Sweden, Switzerland, United Kingdom are the only international countries offered at this time. Any foreign taxes, import duties, or VAT are not included and are solely the responsibility of the customer.
Shipping varies to International countries, starting at 8:00, and is dependent on country, delivery method choosen, and the number of products purchased.
Cancellation Policy
You may cancel your order at any time prior to your order being shipped by contacting us.
Return Policy
Our commitment to guarantee your 100% satisfaction with our card protectors means that all purchases made with us will include our "30 DAY SATISFACTION GUARANTEE". Quite simply, our return policy allows you to shop with the utmost confidence, because if you are not 100% satisfied with your purchase, you may return your item for a credit, exchange, or refund (subject to conditions stated below).
Conditions for returns:
1. The item must be returned in its original, pristine condition, without any scratches or nicks.
2. The item must be returned with all of its original packaging, (including case, certificates, & cleaning cloths, when applicable)
3. The item must be returned using the same insured/registered courier service the item was originally delivered with and postage/shipping paid
4. The returned item must be postmarked no later than 30 days after having ordered the original item.
Return Procedure:
1. Email us and let us know that you are returning an item, reason for return, and whether you want a store credit, exchange, or refund.
2. Send your item, shipping paid, to:
PokerGuard.com
PO BOX 51151
Phoenix, AZ, 85076-1151

3. Once the item has been received, we will process your request.
Please be aware that the shipping portion of the purchase can not be refunded