Your shopping cart is empty!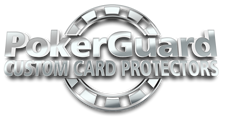 Privacy Policy
Privacy Policy
PokerGuard.com collects data on this site and is the sole owner of this information which will not be sold, shared or rented to a 3rd party. The information collected includes name, telephone numbers(s) addresses and credit card information. This information is only used to complete the order or to contact the customer if more information is necessary. Email addresses collected may be used to notify previous customers of any specials or policy changes that may have been put into effect.
We will share certain personally identifiable information with our merchant and shipping partners soley for the purpose of completing a transcation. The types of information shared will only be what is necessary to complete the sale transaction.
Our merchant services partners and shipping partners also adhere to the highest ethical standards in the industry. When using any personal information provided for the purpose of completing a purchase, their elevated privacy standards will ensure that none of this information be used for any promotional communication purposes.
The privacy policies in place are strengthened with the use of a 128 bit encryption SSL certificate (Secure Socket Layer). This certificate ensures that all credit card information between our website and you, remains secure and private.
Our policy allows you to shop at Pokerguard.com with the security that any online shopper demands, expects, and deserves.