Your shopping cart is empty!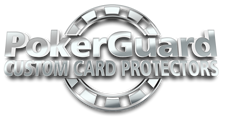 Terms & Conditions
Terms & Conditions
Out-of-Stock or Discontinued Merchandise:
Although a rare occurance, a particular item may become temporarily out of stock or discountinued. In such a case, you would have the option of either substituting a similar product or requesting a full refund of your money.
Responsibility/Liability:
We take child safety seriously. Due to the physical size of the card protectors and some of the packaging materials, these items may present a choking hazard to small children. Please properly dispose of all shipping materials and store your card protector out of the reach of children.
Miscellaneous:
All items subject to prior sale. Prices subject to change without notice. Any orders whose pricing or description is incorrect due typographical errors will be cancelled.
PokerGuard.com. reserves the right to refuse any engraving that is determined by PokerGuard.com to be obscene or otherwise offensive.