Your shopping cart is empty!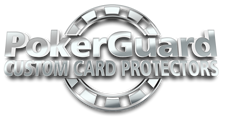 Graphic Guidelines
Graphic Guidelines
The following formats are acceptable: .jpg, .gif, .eps, .tif, .bmp, .dxf, cdr
Submitting Artwork:
1) Place your order online.
2) You will receive a receipt for your order via email from PokerGuard.com.
3) Reply to your receipt email and attach your image for engraving. We will contact you with any questsions or concerns regarding your artwork.
Engraving Process:
All engraving is accomplished through a computer aided diamond drag process. We require adequate resolution black and white artwork. Gray scale, color, or halftone images cannot be reproduced. Please convert your images to B&W "line art" prior to submitting.
What should my artwork look like? Shown below are examples of acceptable and unacceptable graphics. It may help you to print your artwork and compare your image with the following examples: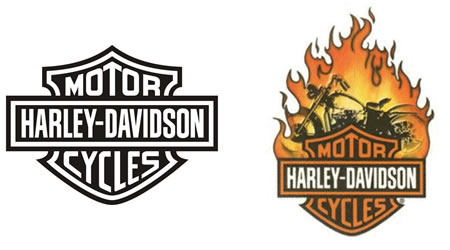 The Harley Davidson image on the left is ideal for engraving while the image on the right is not due to colors, gradients and shading that is required for the image to be complete.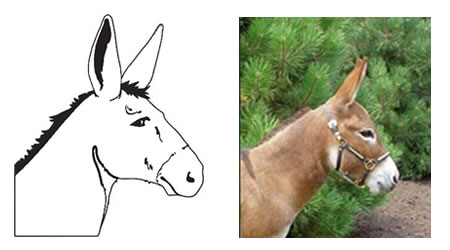 The donkey image on the left is ideal for engraving while the image on the right is not as it is a color photo and has textured background.
The unicorn image on the left is ideal for engraving while the image on the right is not as it contains color, gradients, and a large quantity of detail in a small area.
We do offer an image conversion service for any graphics which can't be supplied in the required format.
In all cases, a larger image is preferred (greater than 100KB in size) as this ensures the details of your image are crisp. A small image in .gif format, about 9KB in size will yield a very poor reproduction.
Additional Information:
Company logos - We can engrave logos if they are 1 color and you have permission to replicate the logo. We may require a letter stating you have permission and we reserve the right to refuse to replicate any logo we feel might be in question of a copyright violation.
Fraternity, College, University - Fraternities and Universities are businesses and therefore are treated the same as company logos and require a permission letter from the logo owner. In addition, some have a licensing fee which the customer is responsible for paying directly to the logo owner.
Professional Teams - There are licensing requirements for all of the professional teams, we DO NOT engrave any NFL, NHL, NBA, MLB, or any other professional league logos unless requested from the headquarters of the league or unless the customer obtains written permission from the league.
Famous Characters - These are also licensed and we DO NOT engrave them. These include any well known cartoon or movie characters or names.
See our complete Trademarks and Copyrights policy.